Inflationary Output Gap Analysis
The permanent costs of short term fluctuations in the level of economic output are most clearly felt in the employment market, and on the price level. The AD-AS  model below illustrates the first stage of the business cycle as it enters a boom which then causes an inflationary output gap.
This cycle almost always starts with aggregate demand growing at a faster rate than can be accommodated by the economy's productive capacity. In the diagram below we see this by the shift from AD to AD', which leads to a new short run intersection with the aggregate supply curve (AS) at a higher price level of p' and a higher output level of Q'.
Unfortunately, an output level of Q' can only be achieved by getting employees to work longer shifts and/or weekend shifts - both of which will be more expensive for the employer.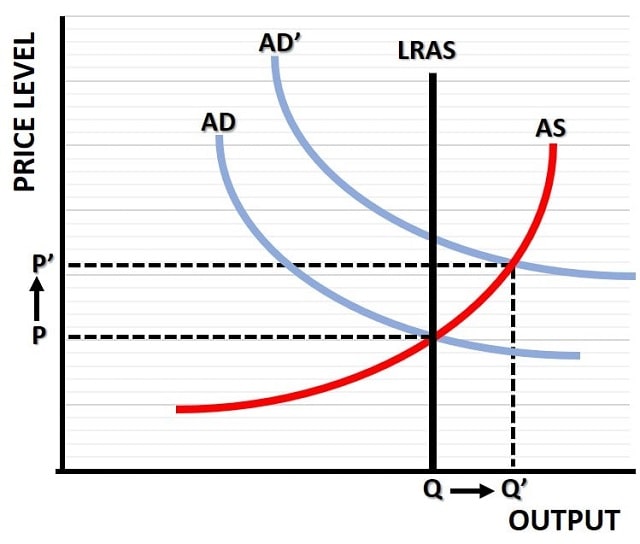 At the higher price level of p' those employees will suffer a fall in the purchasing power of their wages and they will start to demand higher pay.

Firms will be under a lot of pressure to comply due to the fact that employees are in high demand, and workers may be able to find alternative work if their demands are not accepted.
Ultimately firms will have to accept the higher wage demands, which will cause the AS curve to rise to a higher level. Output levels will now fall back to their original level, but prices will be permanently higher.
Now, imagine how much worse the situation would be if government policy reacted to the slowing output levels by boosting the money supply, and lowering interest rates, in order to encourage borrowing and spending. This might temporarily maintain output levels at Q', but it will also result in a further increase of aggregate demand beyond the AD' curve.
Ultimately this cannot continue, and the eventual economic correction will only be enlarged with even greater price increases and falling output levels. If the government persists with even more stimulus, then inflation will grow at an increasing rate until the entire monetary system collapses.
This is a good estimate of the situation that we find ourselves in at the current time.
The positive output gap that developed in the run up to the 2008 global financial crisis was so large that the correction that followed it threatened to destroy the monetary system (because our banking sector had lent so heavily to fund the overheated housing and real estate sector that any fall in real estate prices would leave homeowners with negative equity, and when the inevitable mortgage defaults followed that, the banks would be insolvent).
Our political masters may hide behind their comical CPI estimates of inflation, but any objective assessment of domestic prices will uncover the truth, and in any case the overheated real estate market and subsequent collapse of property prices is well documented.
Responsible economic management would seek to drastically reduce the boom bust cycle to prevent these positive output gap problems from getting out of hand, but that would require the abandonment of Keynesian demand management policies, and probably the replacement of the fractional reserve banking system.
You shouldn't hold your breath for either of these developments...