Solow Growth Model & Theory
The Solow Growth Model, sometimes referred to as the Solow-Swan model after its two developers Robert Solow and Trevor Swan, offers a simple explanation of how a country's economy expands in the long-run. It is not a short-run model, and has nothing to say with regard to business-cycle booms and recessions.
The applicable time-span relates to decades rather than months or years. Don't allow this to deter you from studying it, because the vital importance of the long-term growth rate of an economy more or less overshadows all other economic considerations regarding the future material well-being of that economy. A short-run economic growth model merely aims for a smooth transition along that growth path.
Small differences in the growth rate of an economy are cumulative, and over time these differences materialize has huge gulfs between the standard of living in one country compared to another.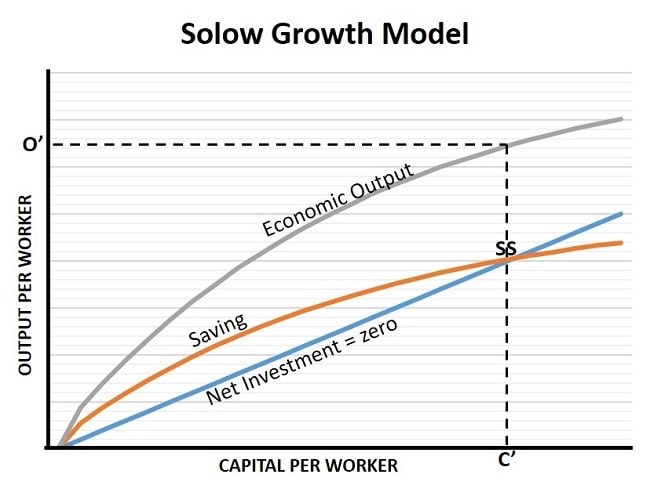 This graph gives a nice simple depiction of total economic output per worker for an economy at a point in time. For simplicity imagine an economy with no government sector i.e. no taxes or government spending, and no foreign trade.
Also assume that population growth rate is zero, and that the working-age effective labor supply is constant. Finally, we use a simple Cobb-Douglas production function where output is determined by the capital to labor ratio.
These simplifications do not change the key concepts of the Solow model, but they do make those concepts easier to understand, because the economy will settle at a point where saving = investment when there's no government or international trade, see national income accounting for clarity on that.
In the graph, the 'steady state', i.e. the point SS depicts the the equilibrium point with total economic output per worker equal to O' and total capital per worker (including physical capital like machinery, human capital like education, skills & entrepreneurship, as well as natural resources like land, fisheries, oil & gas, coal etc.) of C'.
You might wonder why net investment can equal zero with any positive level of economic output. The key is to remember that net investment is different to gross investment. Gross investment would always be above zero, but a large part of that gross investment simply goes towards replacing worn out, or 'depreciated', capital. Net capital investment is only positive if overall investment is enough to replace depreciated capital and then actually increase the total capital stock in the economy.
The savings rate is assumed (for simplicity) to be fixed, and as mentioned above saving = investment. With low levels of capital workers can greatly increase their output with some extra capital investment, but there are no constant returns, there are diminishing returns to capital. E.g. give a farmer a tractor and he will greatly increase his productivity, give him a second tractor and he'll struggle to make further increases.
The Solow Growth Model Steady State
In the graph, the straight 'net investment = zero' line intersects the sloped saving line at SS. If the economy was performing below O' and C' then saving would be higher than investment and, with nowhere else to go, that saving would have to increase investment and move the economy towards the steady state. You might think that the extra saving could go towards extra spending, but don't get confused by this because, by definition, saving is the same as non-spending. So, if I save and you borrow my savings to go spending, then there is no net saving at the level of the economy.
If output was higher than the steady state, then there would not be enough saving to sustain investment levels necessary to maintain the capital stock, and once again there would be convergence back to the steady state.
The Golden Saving Rate & Capital Accumulation
What isn't explained so far is how any particular savings rate is determined, all that is said is that some level of saving will occur.
This is an important omission, and one that we turn to right now.
The saving rate is clearly a very important determinant of economic well being since more saving equals more investment i.e. capital accumulation, with a higher equilibrium output. But what is the optimal level of saving? A saving rate of 100% is not possible, and not even desirable, because the desired outcome is not higher output itself but rather a higher level of consumption. If savings are 100% then nothing is left for consumption and our standard of living will be rock bottom.
Similarly, if the saving rate is zero, then there will be no money available for investment and ultimately the capital stock will depreciate until it is completely worn out and useless, at which point our output level would be rock bottom with close to zero consumption.
Clearly, the optimum level of saving, also known as the 'Golden Saving Rate' is somewhere between 0% and 100%. Whilst the precise rate may vary between different countries and different circumstances, economic research strongly suggests that most of the western world is operating well below the golden saving rate.
As you can see from the table above, the level of net saving for much of the western world has been worryingly low since the 2008 crisis, and this poses a serious threat to living standards in the coming years.

The 'Solow Residual' Theory
You may have noticed that the model so far appears a little too simplistic given that it has placed all of the emphasis for balanced growth on capital accumulation. The bigger picture does, however, include a sort of catch-all metric that accounts for growth that is not attributed to the capital to labor ratio - and that is known as the Solow residual.
The primary driver of the Solow residual is technological advances.
Technical progress is extremely important for raising total output, and its importance is amplified in the less developed economies. That might seem counter-intuitive at first glance, but on second glance you should quickly realize that less developed countries can achieve rapid growth simply by upgrading their existing technologies to the more advanced and productive technologies that exist in the developed world.
The developed world on the other hand tends to already be using cutting-edge technology, and only expensive research and development into brand new production techniques can yield further long run economic growth.
Whilst the Solow model, and any neoclassical growth model, is concerned primarily with the benefits of promoting a shift towards the Golden rule saving rate, and do little to examine the nature of technical progress, there are some complimentary/alternative models that put the emphasis on explaining the drivers of technology improvements.
One of the reasons for the development of these models surrounds the general dissatisfaction with the Solow growth model's prediction that economies with differing saving rates need not have different growth rates i.e. once at a steady state is reached any further growth is simply attributed to the Solow residual. The real world economic record does not support this prediction, and shows that higher long-term growth rates are indeed associated with higher saving rates.
The most well-known of the technology-focused models is called:
That will be the focus of another article, but for now I want to continue with a look at some of the main objections to growth as a policy objective at all.