The Engel Curve & Engel's Law
The Engel Curve in economics relates the demand for a good to the income level of the consumer and, as you might expect, for normal goods we find that a rising income leads to an increasing amount of demand. However, there are some goods, called inferior goods, for which a rising income yields a decreasing level of demand.
Even for normal goods the responsiveness of demand to income changes varies from one good to another, and in this article I will show that it is even the case that any given good may be regarded as a normal good at some income levels, and inferior at other levels.
Closely related to the Engel curve is the income consumption curve. I have previously written about the price consumption curve, from which we can derive a consumer demand curve with prices held constant, and the income consumption curve has complementary uses in that it can be used to derive shifts in demand when prices are held constant.
The Income Consumption Curve
In the graph below I have illustrated a typical income consumption curve that results from steadily increasing income levels for a consumer. As in other articles I have again used the two goods cheese and biscuits to represent a consumer's only available options on which to spend his/her money. We also continue to assume that all available income is allocated to purchase one or the other of these two goods. For more information about the relevant standard assumptions used in elementary economics, have a look at my article about consumer behavior.
As illustrated in the top half of the graph, we start with three different budget lines representing three different income levels. If we take the price of cheese servings and biscuits servings to both equal $1.00 each, budget line 1 (BL1) shows how a $10 income will be allocated, whilst BL2 and BL3 relate to incomes of $20 and $30 respectively.
Still in the top half of the graph, we can see that the consumer chooses to increase his/her purchasing of cheese servings from 5 to 11 and the 16 servings as the budget is increased from $10 to $20 and finally to $30. Similarly, spending on biscuits servings increases from 5 to 9 and finally to 14 servings.
Now, on the bottom half of the graph we focus only on cheese servings at the fixed price of $1.00 per serving. The three different demand curves illustrated represent the consumer's preferred consumption of cheese servings at each income level. We assume that cheese is a normal good and that the relevant demand curve is downward sloping i.e. that a lower price of cheese would elicit higher consumption, and we illustrate that at three different income levels, demand shifts outwards and to the right as income increases. Recall that to derive the downward sloping demand curve we need to use the price consumption curve rather than the income consumption curve.
To derive the income consumption curve, we return to the top half of the graph and we plot each of the preferred consumption bundles that result from the different income levels. As can be seen, this results where the highest possible indifference curves (shown as the blue curves) touch the three budget lines i.e., at points A, B & C respectively. Drawing a curve through all such points, at all possible income levels, yields the income consumption curve.
Normal Good & Inferior Good Preferences
Not all income consumption curves slope upwards in the manner illustrated above, and it is frequently the case that the curve will start to bend backwards at higher income levels. In the graph below I illustrate this with reference to preferred consumption bundles of economy burgers and premium burgers at different income levels.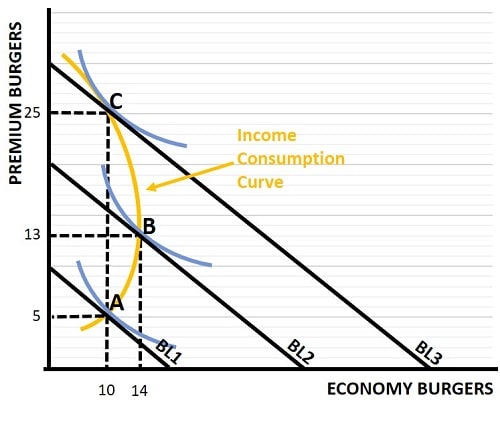 Imagine that the price of economy burgers is $1.00 each and the price of premium burgers is $2.00 each. BL1, BL2 and BL3 represent income levels of $20, $40 and $60 respectively. At the lower income level, consumption bundle A represents a preferred consumption of 5 premium burgers and 10 economy burgers.
When income increases to $40, consumption of both types of burgers increases such that 13 premium burgers and 14 economy burgers are purchased. However, when income increases to $60, the consumer prefers to allocate a reduced amount of income to economy burgers in favor of premium burgers. This is illustrated by consumption bundle C with 25 premium burgers and only 10 economy burgers. The resulting income consumption curve is backward bending from bundle B to bundle C.
In economics jargon, we state that above an income level of $40, economy burgers are an inferior good because the consumer prefers to consume a decreasing amount of them as his/her income increases.